In May 2004, the last items of the estate of Australian Tour de France legend, Sir Hubert Opperman, were offered to the public as part of an auction of significant sporting memorabilia in Sydney.
Together with three cycling friends, six-time Tour de France competitor and Atlanta Olympian, Stephen Hodge, successfully bid for the most significant collection in the auction, 41 photographs of the 1928-31 Tours de France recorded as silver halide positives on glass 'lanterns'.
The images cover every imaginable terrain, condition and aspect of one of the hardest sporting events in existence. The winners, the losers, the injured and the exhausted. From the coast to the mountains, the photos from Hubert Opperman's estate are a landmark collection of cycling history.
The best 15 of these unique photos have now been released as a unique limited edition collection available to purchase on the Cycling History Collection. From the 1930 Tour, the photos capture the key moments from that year's event, with Alfredo Binda, winner André Leducq and Charles Pelissier who won an unimaginable 8 sprint stages. They are all present in the photos.
We believe that Hubert Opperman, who rode the 1928 and 1931 editions of the Tour, used these lanterns for showing in town hall meetings that would have helped him raise the money to fund the Australian team to the 1931 event.
At only $AUD295.00 each plus packing and postage these photos are now available for us all to admire. They have been specially prepared and printed with the highest archival ratings and comprise a valuable and collectible set of images for everyone who would like a piece of Tour history in their own home.
We hope you enjoy them as much as we do.
Stephen Hodge
The photos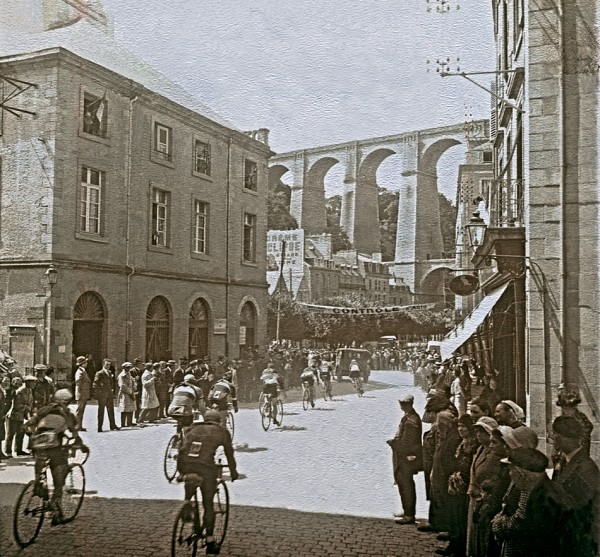 Cyclinghistory.com.au has ensured the preservation of these marvellous images by commissioning Australia's foremost archival restoration experts who have cleaned, preserved and digitised the silver halide photographs on the glass plates at more than 2,400dpi.
Every effort has been made to ensure the photos retain as much of their original character as possible despite the inevitable wear and damage to the glass plates over the years. This character is an essential part of the enjoyment and emotion of the photos, which are guaranteed to incite interest wherever they are viewed.
Now ready to share with all lovers of cycling, the first 15 images in the Cycling History Collection are available for purchase.
They have been digitally preserved and are presented in a limited edition run (250) of large format prints. Each photograph is approximately 58x60cm and printed on 300 gsm photographic watercolour paper using pigment inks.  This ink and paper combination has one of the highest archival ratings available anywhere.
Every one is signed and endorsed by Stephen Hodge guaranteeing its authenticity and making them highly collectible. All images are also authenticated with the special 'Cycling History Collection' seal.
Our payment system is secure 128-bit encrypted.
A short history of Oppy
Hubert Ferdinand Opperman's cycling career began in earnest after he won the Malvern Star 25 mile event in 1923, and in the decade that followed he rose to fame winning 4 Australian titles and establishing numerous Australian and World long distance cycling records.
'Oppy', as he became known, captained the Australasian Tour de France team in 1928. He also won the 24 hour Bol d'Or track race in sensational fashion, overcoming sabotage and riding a commuter bike with mudguards and a lamp while his two racing bikes were fixed and he could re-take the 17 laps he had lost to rivals in the meantime. It took the last 12 hours to re-take the lead and in winning he established a new World record of 904 kilometres for the 24 hours at an average speed of 40kph. His nearest rival was 53km in arrears.
In 1931 Oppy won the famed Paris-Brest-Paris endurance event and was feted across Europe. He continued to establish many records throughout the 1930's in Australia before the Second World War. He entered politics after serving with the RAAF, winning the seat of Corio in Victoria, and serving under Robert Menzies, first as Minister for Shipping and Transport and then as Minister for Immigration. On retirement from politics he served as Ambassador to Malta and in 1991 Sir Hubert was recognised for his achievements by Paris Mayor, Jacques Chirac.